Using Outlook PST files as email source
 Outlook must be configured to always download complete emails to work correctly with Email Parser. Otherwise Email Parser will get blank email bodies for some messages. More info (external link).
Outlook uses PST files to store all the emails it receives. This file contains all the information from a given inbox, all the emails, folders etc. You should expect to find one PST file for each email account you are handling in Outlook, it is not one file per email like it happens with MSG or EML files.
In order to set up an Outlook PST file as an email source, first click on click on "Add email source" in the toolbar at the top of the program window: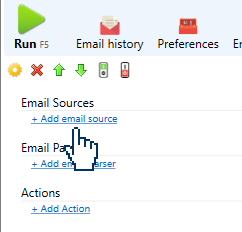 Then, choose Outlook PST file from the drop down list: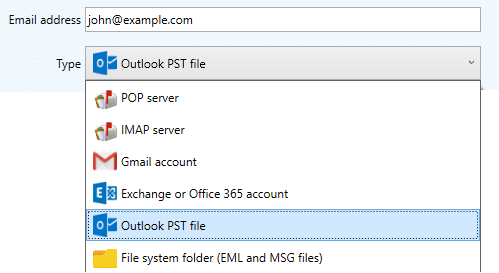 Then fill the required settings. Note that a path to the Outlook PST file is required. If you do not know what it is or where to find it take a look at the help topic How to locate the Outlook PST file.