February 25, 2014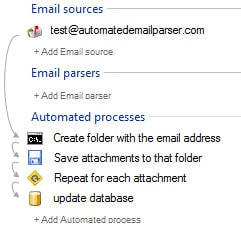 The save attachments action replaces the existing file if another one with the same name is found. This may be an advantage for some set ups but if you process email attachments that come from different senders this is probably something you don't like. For example, the file photo.jpg attached in an email from john@gmail.com and the file photo.jpg from eva@gmail.com must be separately processed because they are indeed different photos. We do not want Eva to replace the photo previously sent by John.
---
February 3, 2014
If you are using Email Parser with Gmail you have probably noticed that Google handles POP in a very particular way. They seem to not delete a given email when requested or the available emails via POP may be different from the emails you see accessing your account via the website.
The most important subject you must pay attention to is the POP settings. They will probably give you some hint on why things are not working as expected:

Notice also that if a given email has been downloaded once via POP it will not be available the next time you connect to Gmail unless you enable the "recent mode" ! (more info here )
Another drawback is that deleted emails via POP never get deleted. They are still kept in the server. So if you use the "delete email from source" in Email Parser do not expect to have your email deleted the next time you access Gmail via the website. The email will still be there.
If you want to not deal with these problems we recommend using IMAP access. POP is a very old protocol (although widely used)
---