August 10, 2018
Recently, a user has posted an interesting question in this website forum:
I'm writing to a text file.
Here's my "Text to insert":
'1','<%customerID%>','<%customerID%>',",",",",'ADMIN','<%shipToID%>',",",",",N'

I'd like some way to increment the "1" with each successive line I extract from the e-mail….

I've been trying to create a static field above, and increment it.. tried a script & do it in C#…
Help!!!
and Thanks,
Rich
In this case, the user wanted an index value to write to a text file but it may also happen that you need an index value to insert to a database table. If doing so note that database tables can generate their own index when the SQL INSERT command is sent. But you can also provide them your own index value manually if you want to.
For example, if we retrieve the following fields from an incoming email:
---
May 28, 2018
This new version contains only small bug fixes and performance improvements over the recent 4.7 release. As usual, you can download it from the downloads section.
[Fix] Gmail labels, IMAP and Exchange folders browse in the email source settings do not timeout so quickly. Good for slow connections or long lists of labels/folders
[Fix] Exchange version 2007 is now actually supported.
[Fix] Improved fault tolerance of the changing running mode window when connection errors happens
[Fix] Small performance improvements when saving large settings files
[Fix] Added more detailed info of very old emails information in the Processed emails tab. See Limitations of the size of the internal database
[Fix] Many minor bug fixes
---
---
April 23, 2018
This new release comes with many new features and changes. Most notably the support for processing your emails online but also the support for Google Sheets and Office 365/Exchange accounts. For a more detailed list see below:
[New] Tabbed interface. Now you can keep open multiple items (email sources, fields, actions etc) at the same time.
[New] Automatic save of the changes. There is no longer the classic Save or Cancel buttons. Every change you make to an item is automatically saved
[New] Simplified Processed emails window. Less buttons and less clutter. Only the important things are shown.
[New] New text capture method to capture HTML tags.
[New] Email Parser can now parse your emails online. See What is Email Parser Online for more information.
[New] Support for Google Sheets
[New] Support for Office 365 email addresses and Exchange
[New] A new icon. Why not?
[New] Now you are able to move an email from one folder to another as part of the process.
[New] Parsing a field is now available also as an action. Previously it was available only within an Email Parser
[Change] Fields are now directly show in the left panel. There is no longer needed to open an Email Parser item to show a field settings
[Change] "Email history" is no called "Processed emails". We think naming it this way it is more clear what this window actually does
[Fixes] Faster script actions execution
[Fixes] And a ton of little tweaks here and there.
---
October 27, 2017
Recently a user has asked if it is possible to capture (parse) an email address written in the email body, not in the From, To, CC etc. and sending an automatic reply to that address. The answer is that parsing email addresses is very easy as they have a very well defined format:
name@domain.com
Some of them even have an indefinite number of subdomains:
name@subsubdomain.subdomain.domain.topleveldomain
Searching in our recommended site for a regular expression that matches an email address we have found this one:
\w

+

@

\w

+

(

\.

\w

+

)+
Which, in plain English means: a string of letters followed by a @ and another string of letters. It follows another string of letters preceeded by a dot, and this last subset can be repeated many times.
This regular expression will not match some weird email addresses, but 99.9% of them will. For the purpose of showing how to parse email addresses is enough but you can use more powerful ones.
---
September 25, 2017
We have added a new example to the examples collection that shows you how to rename attachments with the help of scripting.
You can find it here.
---
September 4, 2017
This release comes with many changes, but most notable tweaks are in the user interface (easier to use) and also Gmail accounts are now supported directly via the Gmail API. The detailed list of the changes is the following:
"Automated processes" are now called "Actions".
Email Parser fields can now be tested "on the fly". No longer needed to switch to the testing tab.
Wildcard expressions have been deprecated. 99% percent of the users do not actually use it.
Much better high-DPI screen support
Support of the Gmail API directly. No longer needed to enable IMAP access to parse emails in your Gmail account
Attachment content is now automatically included as a field called "AttachmentContent". Setting this up in the email source settings is no longer needed.
A shortcut link in the output window that says "More details" opens the processed email with all its data.
Many changes on how the Actions are chained. Mostly UI based. Now it is easier to understand their run conditions and how they are chained together.
Email Parser running as a Windows Service is now included by default in the installer. There is no need to download an "add-on" package. However, the Windows Service is not actually installed until the user chooses to run Email Parser this way.
A faster response of the left panel. If you have many email sources, email parsers and actions you will notice the difference.
Many other "under-the-hood" minor changes and bug fixes.
Many UI tweaks for making the interface easy to use.
---
May 30, 2017
Email Parser usually performs all the actions when an incoming email is received but sometimes you may need to trigger other actions wether or not new emails arrive.
In these cases, the way to go is to use the run condition "before any email is processed" or "after any email is processed". They mean that everytime the Run button is clicked that action will be executed before checking the inboxes or after processing all the email. Regardless the amount of emails received, that action will be run once.
A customer recently asked in the forums how to send an email at 9:00pm and we have written an small example for him. Let's take a look at the left panel items: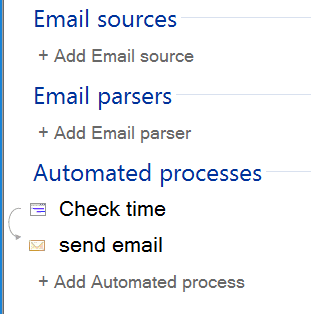 ---
April 19, 2017
The topic that explains the use of Regular Expressions was very brief and just pointed to other useful resources on the net. Since questions regarding Regular Expressions are frequent this topic has been completed with more examples, a step-by-step tutorial that covers the basics and also how capture groups are used in the context of Email Parser.
I would like to also point here to a very interesting question that the user "logo11" has posted. If you are curious about how Regular Expressions are implemented in Email Parser it is worth a look.
---
January 18, 2017
If Email Parser is running as a standalone application (see the running modes) settings are stored per user. This means that all the items you see in the left panel and all the emails in the email history are linked to your Windows user account. If you open Email Parser from another Windows account in the same computer you will see everything empty, like you have just installed the program.
When Email Parser is run as a Windows Service, the email processing will take place in the background. A Windows Service running under the SYSTEM user account is actually processing your emails and the settings are stored under this path: C:\WINDOWS\system32\config\systemprofile\AppData\Roaming\EmailParser\.
In both cases and as most Windows apps, configuration files are stored in a hidden folder called "Application Data". As the path to this folder changes between Windows versions and configurations the best way to reach it is to simply type %APPDATA% in the file explorer, then hit enter:
---