How to set up an Office 365 email account
See also: Enabling IMAP in your Office 365 account
For setting it up, first, you have to choose Office 365 as email source type:
Then click on "Authorize Email Parser to access Office 365":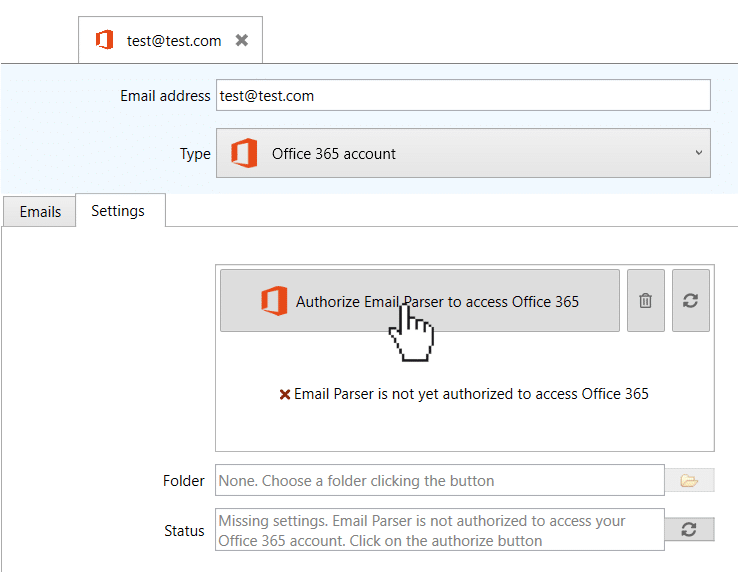 A separate web browser window will pop up asking for your Office 365 credentials. Note that the email address you enter in Email Parser must match with the one you authorize in the web browser. If not you will get an authentication error.
After you go through the authentication process you can return to
Email Parser
and check that the app is actually allowed to access your email: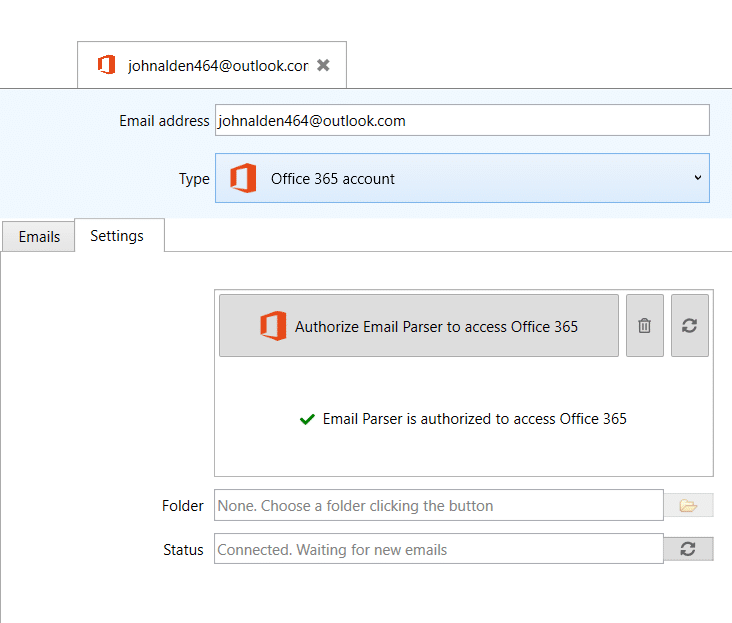 Common issues and questions
I can't connect. Even after authorizing Email Parser to access the email, the source keeps saying "connection error"
Try getting the latest version of EmailParser (click on download free trial at the top). On July 2022 Microsoft stopped accepting connections with older versions of the TLS protocol. This caused that Email Parser was unable to connect. With the version 6.2 release we fixed that.
What do the "bin" and "refresh" icons mean?
These buttons are useful when you run into trouble connecting to your Office 365 account. The "bin" button deletes any past configuration that Email Parser may have regarding how to access your Office 365 account. The "refresh" button checks again if Email Parser is authorized or not to access your emails.
How do I access a shared Office 365 folder?
Email Parser does not currently support shared Office 365 folders. It is planned to add support for it in future releases.
I get the error "Email Parser is not yet authorized to access Office 365"
Click on the button "Authorize Email Parser to access Office 365" and follow the authorization process in the web browser. If it still does not work click on the bin icon and try again.
I get the error "Error trying to start the Auth code grant flow."
Restart Email Parser and try again.