How to set up an Exchange email account
See also: How to find the Exchange web services URL
If you are using an Exchange server hosted in Office 365 (not self-hosted) note that from September 2022, Microsoft has stopped accepting old authentication methods. Change your email source type in Email Parser to Office 365 to access your email.
More details on the Microsoft changes
here
Setting up an Exchange email account in Email Parser is very straightforward. All you need to do is to select "Exchange account" as type:
And fill in the required parameters. If you don't know the EWS URL check this topic.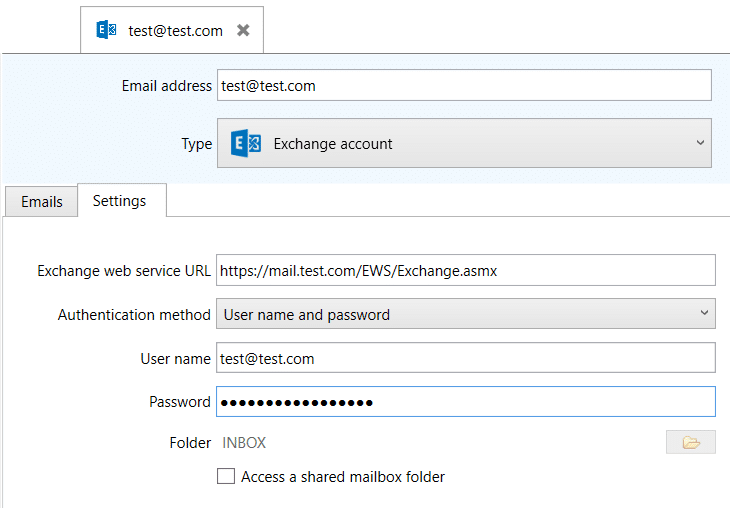 Common issues and questions
I get the error "(401) Unauthorized." when connecting to the Office 365 Exchange server
The Office 365 Exchange server usually requires an app-specific password (not your account password). You can create one under the Office 365 control panel. Alternatively, you can choose the type of email source specific to Office 365 under Email Parser.
What is the EWS URL for the Office 365 Exchange server
It is https://outlook.office365.com/EWS/Exchange.asmx . However, we recommend using this type of email source for Office 365.
What versions of Exchange Server are supported?
Exchange 2007 and up. Note that the server EWS access must be enabled. This feature is enabled by default but some server administrators disable it.
I cannot connect to the server. I get the error "Error. The request failed. The underlying connection was closed: An unexpected error occurred on a send"
This error seems to happen when there are many Exchange email sources in Email Parser. Initially, the connection seems to work fine, but after some hours the email source status shows this error. This is happening because Microsoft Office 365 servers
limits how many request a user can make in a period of time.
The more email sources you create, the more requests Email Parser has to make to check your email.
Try limiting the number of email sources in Email Parser to 5 max. If you need to create more or you still get this error, please let us know.
I can't get it to connect. I get unautohorized error or 404 not found.
Check the following:
Is the EWS URL the correct one? Note that the EWS URL is not the same as the URL for the Exchange Web access (webmail).
Does your Exchange server require two-step authentication? Note that Email Parser does not support it.