How to set up an Exchange or Office 365 email account
See also:
How to find the Exchange web services URL
Office 365 and Exchange share the same email source type because Office 365 actually uses the Exchange protocol. This topic explains how to set up an email account in both cases.
Office 365
For configuring an Office 365 account you have to enter your email address and password normally and click on the "I am using Office 365" button. Email Parser will automatically enter the URL where the Office 365 Exchange web service is located.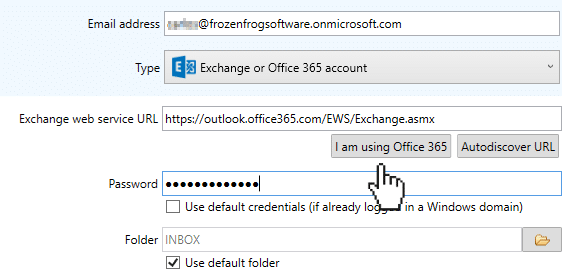 Exchange
If your organization uses an Exchange server note that its version must be at least Exchange Server 2007 and the EWS access must be enabled. Usually, this feature is enabled by default and all you need to do to set up your email account in Email Parser is to enter your email address, your password and then click on the "Autodiscover URL" button. If the auto-discover process fails and Email Parser is unable to find the URL of the Exchange server ask your network administrator for this information.